Medications – like many things in life – carry with them a set of pros and cons. On the plus side, many medications improve the symptoms of debilitating disease and the alleviation of chronic pain and uncomfortable conditions. On the flip side of the proverbial coin, many of these medications can come with unwanted side effects. Sometimes the good outweighs the bad when it comes to difficulties that arise from medication consumption. Symbicort is no exception.
Symbicort
Symbicort (or Budesonide/Formoterol) is a combination drug that was developed for the treatment of Asthma and chronic obstructive pulmonary disease (COPD). It also helps prevent bronchospasm (narrowing of the bronchi, otherwise known as the windpipe). It is a blend of two medicines: the first, known as Budesonide, is a corticosteroid that is used in the long term management of asthma and COPD. Budesonide can be nebulized (a drug delivery device used to administer medication in the form of a mist inhaled into the lungs) or taken in pill form. Nasal spray and rectal forms are also an option. Budesonide works through the anti-inflammatory properties of glucocorticoids to reduce the inflammation and hyper-reactivity of the airways caused by asthma. Formoterol is a long acting adrenoceptor agonist that is also used in the management of asthma and COPD. It is a bronchodilator that relaxes muscles in the airways to improve breathing and help prevent bronchospasm. It is sold in three forms: a dry-powder inhaler, an inhalation solution, and a metered-dose inhaler.
Common Side Effects
While every medication has side effects, Symbicort is on the WHO (World Health Organization) Model List of Essential Medicines (EML). This list is comprised of the safest and most effective medications that meet the most important needs in a health system (http://www.who.int/medicines/publications/essentialmedicines/en/). More than 155 countries have created national lists of essential medicines based on this list, as it is used frequently to develop lists of essential medicine for developing and developed countries. As far as side effects go, Symbicort is on the tame side when it comes to side effects. Common side effects include throat pain, influenza, runny nose, and an oral yeast infection. Uncommon symptoms can include a fast heart rate, muscle cramps, nausea, upset stomach and dizziness. While these side effects are rare, tell your doctor if you have a persistent sore throat, trouble sleeping, excessive muscle cramps, tremors, or mental health changes (such as anxiety or depression).
The Cost of Symbicort
In America, the average price for 1 inhaler (120 doses) is around $240 to $300. Since these are maintenance inhalers and not rescue inhalers, they are taken on a daily basis whether or not you have trouble breathing. Symbicort should last about 30 days if you are taking 2 puffs twice a day. Over the course of a year, this can become a very expensive medication. Understandably, we realize that not everyone can afford this medication on a month-to-month basis. Luckily, the RX Helper is here to lend a hand. If you need assistance paying for Symbicort and your treatment of asthma and COPD, look no further. We know that insurance rates are high and that it is not always easy to get the medication that you need to live a healthy life. Through our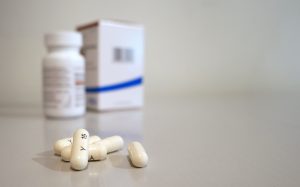 prescription assistance program, we help provide you with the medicine that you need. We work with healthcare providers and side-step insurance companies to make sure that you manage your asthma/COPD without breaking your bank or negatively influencing your quality of life. Our program can help get Symbicort into your hands for a fraction of the uninsured rate. If you need help managing your asthma and COPD symptoms, contact us today.
Do I qualify for assistance?
Two out of three visits to the doctor end with a prescription being written (http://www.bemedwise.org/documents/paps.pdf), and with more than 46 million uninsured and underinsured Americans, the need for a prescription assistance program like ours cannot go unnoticed. Many Americans go without their prescription, under-fill their prescription, or do not dose correctly because of financial concern. If you are a U.S. resident, are over the age of 18, have a limited/no prescription drug coverage and have a demonstrated financial need, then you will most likely qualify for prescription assistance. We work with major drug manufacturers and nonprofit organizations because we understand and recognize the need for more affordable prescription drugs. There is no limit to how many medications we can help an individual patient receive. All that we ask of you is that you are eligible to enroll and that the medication is on our list of covered prescriptions. We'll handle the rest at little to no cost to you.