Diabetes can get expensive. The cost of insulin, needles, and blood glucose monitors can seriously hurt your wallet and can make life more difficult than it has to be. This is where The Rx Helper steps in. We help facilitate and expedite the process of applying to prescription assistance programs, programs which help uninsured and under-insured Americans obtain the medication they need to live a healthy life. Levemir is a life-saving chemical version of the natural human hormone insulin, and is taken by millions of people daily to help with the treatment of their diabetes.
What is Levemir?
Levemir is the brand name for insulin detemir, which is a recombinant human insulin analog that mimics the action of the natural human hormone insulin. Insulin detemir differs slightly than the natural human hormone, however. The amino acid threonine in position B30 is omitted, and a C14 fatty acid chain has been attached to the amino acid B29. This chemical modification of insulin allows the insulin to be administered once to twice daily. If taken once daily, it is recommended that the insulin should be taken at bedtime or during an evening meal.
Blood glucose monitoring is always a necessary activity of anyone afflicted with diabetes, and there is no substitute for being careful. Levemir can be injected subcutaneously in the abdominal wall, upper arm, or thigh. The rate of absorption is affected by individual factors, such as activity level, stress, other illnesses, or changes in medication or meal patterns.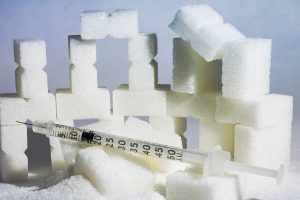 Levemir Side Effects
Levemir may have side effects. The most common side effects of Levemir include hypoglycemia, hypersensitivity, and allergic reactions. Other side effects include respiratory tract infection, headache, influenza-like-illness, abdominal pain, and pharyngitis. Less common side effects include bronchitis, gastroenteritis, back pain, and upper respiratory tract infection.
Need Help Paying for Levemir?
The Rx Helper helps! We provide thousands of Americans the ability to afford otherwise unaffordable medications. By working with pharmaceutical companies, health care providers, community groups, and doctors, we get you set up with a prescription assistance program that fits your needs. Often times, the prescription assistance application process can be difficult and time-consuming. Many people choose not to try prescription assistance programs for this reason. Our mission is to ease the difficulty of this arduous affair. If you are a low-to-moderate income American, or are uninsured or under-insured, we may be able to help. Our mission is to get Americans the medications they need through patient assistance and boost the enrollment of Americans in need.