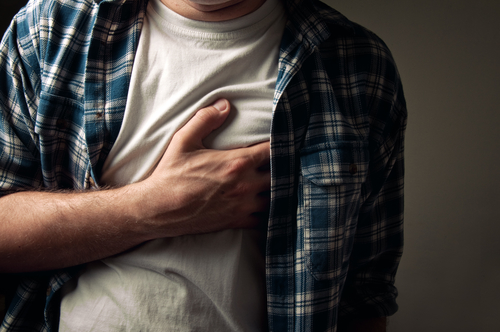 Angina is a medical condition that can debilitate a person's ability to live a life of high quality. Fortunately, treating angina medically is usually successful in reducing symptoms and allowing patients to live full lives. But, the rising cost of prescription medications makes it hard for many Americans to be able to afford their prescription medications to treat angina. The RX Helper provides discounts for these citizens that cannot afford the cost of their needed medications due to minimal or lack of health insurance coverage.
What is Angina?
Angina is when the arteries of the heart are not functioning well enough to send the amount of oxygen needed for the heart to work normally. Muscles require oxygen to function, and the heart is a muscle. Oxygen is transported through blood, so if there is not enough blood to the heart, the heart cannot function up to par. Angina is thought to be a result of coronary heart disease, a condition characterized by the narrowing of arteries that leads to lack of oxygen being transported to the heart. The most defining characteristic of angina is chest pain that can occur as a result of:
High amounts of stress

Exercising

Walking after eating

High or low temperatures
How Do I Know if I Have Angina?
Having chest pain? It may be a result of angina. Individuals can experience the symptoms of angina differently, and men differ from women when it comes to symptoms additionally. Although most patients experience a tightness, pressure, or squeezing feeling in the chest, some patients report experiencing neck, back, shoulders, or other areas of the upper body. Patients also have described exhaustion, shortness of breath, and a heartburn sensation as a result of movement. Women diagnosed with angina describe the a sharpness in the chest as opposed to compression and may even experience this sharp pain in the neck or jaw.
If you think that you may be experiencing angina, take notes of the symptoms that you are experiencing and tell your doctor about them. Your doctor may point you in the direction of a cardiologist to make the diagnosis and prescribe accurate treatment. Make sure you tell your doctors of any medications and vitamins you take, medical history, and if you are pregnant before getting a prescription for treating angina.
Treating Angina with Medication
The frustrating thing about angina is that it can die down for a while, but it will always come back in those diagnosed with chronic angina. That's why treating angina with a prescription medication is important. Ranexa is a prescribed angina medication that can be taken with other heart-related medications without negative reactions. In clinical trials, Ranexa decreased the number of weekly angina attacks. It also helped individuals in the trial exercise longer before symptoms appeared. Do you think that Ranexa may help the symptoms of your angina? Ask your doctor about a prescription to Ranexa. Remember that not everyone is right for Ranexa and that your doctor will prescribe you with the medication he or she thinks will give you the best chance for living a quality life without angina attacks.
Treating Angina Getting Costly?
For individuals with angina that have to take a prescription medication on a daily basis, prescription fees can be through the roof. Many Americans are left skipping doses or foregoing treatment for their angina simply because medication costs so much. The RX Helper was developed to help the people that can't afford their medications due to high costs and little or no prescription insurance coverage. We help with a number of different prescriptions, and there is no limit to the number of prescriptions that we can help a patient with once approved for the program. To find out if you are eligible for application, visit our website. Additionally, make sure your needed medications will be discounted through The RX Helper by visiting our medication list, also listed on our website. Have any questions about our services or any of our prescription medications? Give us a call today at 877-767-3297 so that one of our customer service representatives may assist you with whatever you need!