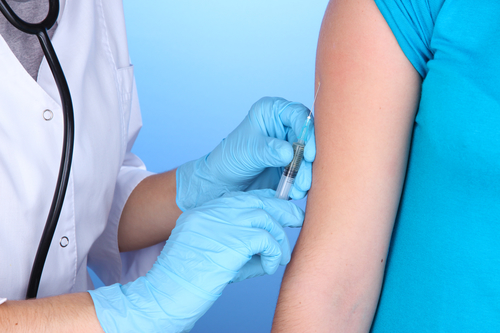 With August coming to an end, this year's National Immunization Awareness Month is nearly at its conclusion. During this time every year, health care professionals and experts everywhere take extra time to educate the masses on the importance of routine immunization and its impact on the U.S population. Sadly, roughly 50,000 people in America die every year from complications brought on by different diseases. But these sorts of fatalities are totally preventable. This is why routine immunization is so important and it's exactly what National Immunization Awareness Month works to bring attention to.
Influenza and the Growing Rates of Hospitalization
Influenza, more commonly called the flu, is another condition that seniors happen to be especially prone to. In fact, 60% of the flu patients hospitalized in the United States every year are 65 or older. What most people fail to realize— until it's too late— is that flu symptoms for seniors are much, much worse than they are for younger adults or even children. To address this issue, certain flu vaccines today are designed specifically for the exclusive use of patients 60 years old or older.
Are Seniors the Only Ones Who Need Routine Immunization?
Vaccines today can be administered as early as 12 months of age. Their purpose is to strengthen an otherwise weakened immune system. For the most part, children, the elderly, and anyone with a genetic predisposition to certain infectious diseases or a history of certain cancers undergo routine immunizations at the recommendation of their doctors. Children, whose immune systems are still developing, are constantly exposed to a number of harmful viruses. Adults 65 and older have a significantly higher risk of contracting life-threatening diseases and/or suffering complications from those diseases. Anyone with a weak immune system is at risk. In short, seniors are not the only ones who benefit from routine immunization. Medical experts make this point almost every National Immunization Awareness Month.
Why Isn't One Shot Enough?
Vaccines are not a magic solution, nor are they a one-and-done solution. Like any other form of medical treatment, vaccines should be and are the most effective when done routinely. In other words, the effects of a vaccination can wear off with time, which is why getting them periodically can give the immune system the boost it needs to fend off disease in the long run.
What You Can Do
Because vaccines can wear off with time, routine immunization may benefit you, even if you have to revaccinate for some of the same things as you did when you were younger. Doing this will surely protect you and any elderly loved ones close to you from contracting any dangerous conditions. But what else can you do?
During National Immunization Awareness Month, medical professionals encourage adults with children and/or senior parents to discuss routine immunization with them. While the flu is certainly something to avoid, there are a number of other diseases that vaccines can protect against.
For children, this can include:
Chickenpox
Diphtheria
Human Papillomavirus
Influenza
Measles
Meningococcal Meningitis
Mumps
Pertussis
Pneumococcal Infections
Polio
Rotavirus
Rubella
Tetanus
For adults and/or seniors, this can include:
Anthrax
Diphtheria
Hepatitis A and B
Human Papillomavirus
Measles
Meningitis
Mumps
Pneumococcal Infections
Rubella
Shingles
Smallpox
Tetanus
Whooping Cough
Vaccinations for Those on Prescription Medication
The subject of vaccination has always been one of controversy in the United States. However, in recent years, more and more studies have supported that vaccination fights disease without compromising other areas of health— or other forms of maintaining health. So far, there is no evidence to suggest that routine immunization would interfere with the effects of prescription medication. Still, if you have any questions or concerns, be sure to consult your doctor before committing to a vaccine.
Routine Immunization and Prescription Upkeep for The Best Health Possible
This National Immunization Awareness Month, we at the Rx Helper encourage you to take the time to learn more about infectious disease and routine immunization for the sake of your and your family's health. It might just mean the difference between life and death. Remember to also keep track of your prescription medications. If you have any questions about your prescription medications or would like to enroll in our prescription assistance program, feel free to call us anytime at 1-888-233-4303.