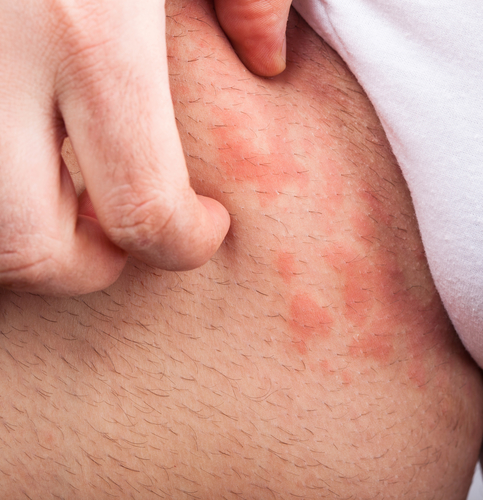 CIU, or Chronic Idiopathic Urticaria, is a condition that can leave patients diagnosed with the illness frustrated without relief from painful and agitating symptoms. Fortunately, Xolair is a CIU treatment that helps to relieve the chronic pain that comes with having the illness. But, many Americans prescribed with or considering asking their doctor about a prescription for Xolair find themselves unable to pay for the treatment. This is where the RX Helper comes in, providing prescription discounts on CIU treatment like Xolair for many individuals who qualify.
What is Urticaria?
Urticaria is the defining characteristic of CIU and is also referred to as hives. Hives can appear seemingly out of nowhere and are itchy, red, and swollen bumps or contusion. There are two types of Urticaria, acute and chronic. Acute hives go away on their own after a few days and their cause can be identified. Chronic hives, however, can last more than 6 weeks and the cause of them is usually unidentified. Individuals diagnosed with CIU experience chronic hives with an unknown cause.
Some CIU Statistics
If you are a woman, you are more at risk for developing CIU than men. Additionally, the illness is usually diagnosed in individuals ranging from 20 to 40 years of age. The arrival of hives for individuals diagnosed with CIU is referred to as a "flare up". These flare-ups can occur and disappear out of seemingly nowhere. The flare up cycle may last five years or even longer.
Do I Have CIU?
Most patients who are diagnosed with CIU know that they are experiencing hives, but are unaware of their chronic condition. Although many people self-diagnose their CIU based off symptoms, the only true diagnosis is a licensed medical physician. If you believe that you may have CIU, talk to your doctor about receiving a medical diagnosis and establishing a CIU treatment plan to manage symptoms. Characteristics of CIU include:
Hives located in the skin of red, white, or skin color with defining edges that may change color, size, and shape.

Hives can range from as small as a pinprick to big, blotchy areas.

Hives can be found anywhere on the body, but are usually recognized on the arms, legs, back, or chest.

Hives can disappear and reappear elsewhere on the body.

Hives are irritated and itchy for those who experience them. Everyone diagnosed with CIU experiences different symptoms, so itchiness can vary.

Hives that are pressed with a finger will turn white in the middle. This is an identifying factor of hives experienced by patients diagnosed with CIU.
Xolair, a CIU Treatment
Fortunately, those who are diagnosed with CIU can get treatment with Xolair. This medication is injected into the bloodstream and acts to mimic a naturally produced antibody in the body. Antibodies help to fight off infection and foreign bacterias that may be a cause for chronic hives. Throughout the research, this CIU treatment was proven to reduce the number of chronic hives and also the severity of itch caused by hives in patients diagnosed. The medication is administered by medical personnel (doctor or nurse) once a month and the duration of treatment is established by a patient's doctor.
Getting a Discount for your Xolair CIU Treatment
With the continual rising costs of prescriptions for American citizens, many find themselves unable to pay for their CIU treatment. If you are considering asking your doctor for a prescription for Xolair, or you already have a prescription for Xolair, you may be qualified to receive prescription discounts through patient assistant programs offered by The RX Helper. Individuals who are over the age of 18, are U.S. citizens, and have little or no prescription insurance coverage are usually eligible to enroll into our program. But, once you are deemed qualified, you can receive discounts or even full coverage on any medication that we help with. Also, there is no limit to the number of medications we can discount or cover, so if you have more than one prescription, we can still help! To find out if we help with your specific medications or if you are qualified to enroll, visit our website or give us a call today at 877-767-3297.