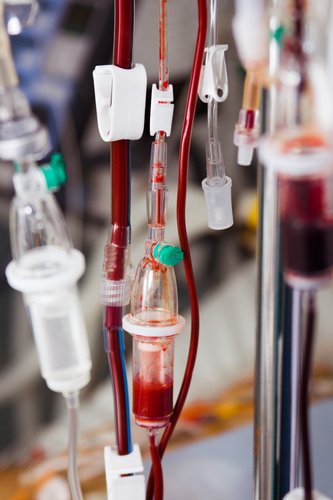 Anemia is a medical condition in which an individual's blood is lacking a number of red blood cells or hemoglobin to function properly. In most patients affected with anemia, iron deficiency is the main cause. Fortunately, prescription medications, such as Injectafer, can help red blood cell levels for patients with anemia caused by iron deficiency. But, unfortunately, many of these patients are unable to keep up with treatments because of the rising costs of medications, or an inability to afford medical prescription insurance. The RX Helper works to help individuals who cannot afford the cost of their treatment for iron deficiency so that they can live healthy and productive lives.
Who is at Risk for Iron Deficiency Anemia?
Iron deficiency anemia, or IDA, is accountable for half of all cases of anemia. Patients with IDA can develop the deficiency as a result of medications, so many patients diagnosed with IDA have concurring medical ailments. These may include:
Kidney disease or failure

Cancer

Recent birth

Inflammatory bowel disease

Heart disease or failure

Recent gastric bypass surgery

Subclinical celiac disease

Heavy uterine bleeding

Growth problems
Symptoms of Anemia caused by Iron Deficiency
Exhaustion
Paleness of the skin
Heart palpitations
Shortness of breath
Increased medical problems
DizzinessColdness of the extremities
Fragile nails
Loss of hair
Causes of Anemia from Iron Deficiency
There are a few reasons, besides medical conditions, which may cause IDA. These situations may include:
Extreme blood loss

Diet lacking in iron

A body that cannot digest iron

Pregnancy
Only a doctor can diagnose IDA, so if you are experiencing any of the symptoms, you have experienced the above medical ailments, or you have experienced the risk factors of developing IDA, ask your doctor if a treatment for iron deficiency can help.
What are the Demographics Most at Risk for IDA?
There are certain demographics that are at a higher risk for developing either medical conditions that lead to IDA or just more prone to developing IDA. These demographics include:
Women: Menstruation and pregnancy are both risk factors for developing IDA because of a loss of blood.
Children: As we grow, our bodies requires higher amounts of iron to grow properly. Babies and children with growth issues are usually affected by IDA. Also, children who do not eat a diet high enough in iron may be at risk for developing IDA.
Blood Donors: Although donating blood is a wonderful thing, for those that do it too much, it may be dangerous. This is because donating too much blood may put an individual at risk for developing IDA.
Vegetarians/Vegans/Picky Eaters: Our diet is the main supplement for our iron resources, and without a diet high in iron, individuals may develop IDA. Meats are high in iron, and vegetarians or vegans who do not supplement their meat source with other iron-rich foods may develop IDA.
About the Treatment for Iron Deficiency, Injectafer
Injectafer is an either oral or IV administered treatment for patients with IDA for approved reasons. Since 2007, it has been approved and administered to patients in over 60 different countries worldwide. Additionally, before its approval, it has been used in over 20 clinical trials by over 7 thousand patients. Depending on the reason for the developed case of IDA, the option for administration may differ. Patients who have developed IDA for reasons besides kidney failure may be able to take the oral supplement, which is the first oral supplement for IDA approved by the FDA.
Getting Help Paying for Injectafer, the Treatment for Iron Deficiency
If you are thinking of asking your doctor for a prescription for Injectafer, or you already have a prescription, you may find it difficult to pay for the medication costs. That's where we come in to help patients who cannot afford the cost of their prescription medications through patient assistance programs. These programs are offered through hundreds of various organizations to help Americans who would otherwise need to skip doses of their required treatments. We sift through these programs to find the ones that meet your needs, and there is no limit to the number of medications we can help with, as long as they are listed on our discounted medication list on our website. There are some qualifications for enrollment, which are also listed on our website. If you think that you could benefit from receiving coverage or discounts on your prescription medications, please give us a call today at 877-767-3297 to speak with a qualified and experienced staff member about saving money on your prescriptions!