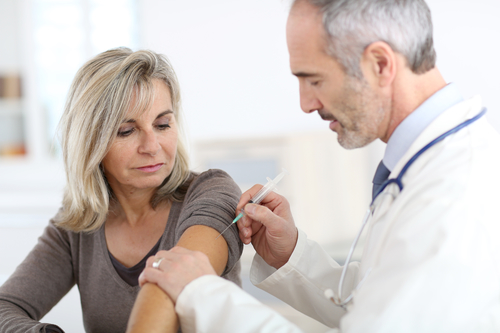 Did you know that if you are over 50 years old, you are at risk for developing Pneumococcal Pneumonia? Many people think that pneumonia only affects those that are weak, ill, or elderly, but there are millions of otherwise healthy adults being affected with the illness every year. Protecting yourself from Pneumococcal Pneumonia means defending your body from an illness that is debilitating and difficult to treat. Currently, there is a Pneumococcal Pneumonia vaccine Prevnar 13 that is working to guard many Americans against developing the exasperating illness.
What is Pneumococcal Pneumonia?
Pneumonia is when there is an infection of the lungs caused by specific virus or bacteria. This inflammation can lead to the filling of the air sacs with pus. Pneumonia can either affect a single or both lungs at a time. Pneumococcal Pneumonia is a common type of pneumonia caused by the virus known as streptococcus pneumoniae. As we age, our immune system is less likely to effectively fight off infections on its own. Additionally, factors like illness and lifestyle choices can increase an adult's chance of developing Pneumococcal Pneumonia. But, even people that have taken good care of their health at age 50 or older can be affected by the virus and develop Pneumococcal Pneumonia, which is why it is important to talk to your doctor about the vaccine.
Symptoms of Pneumococcal Pneumonia
Contrary to popular belief, the illness is quite serious. Many patients diagnosed are required to heal and get treatment in a hospital setting, while some patients never recover. This type of pneumonia can develop with speed, so it is important to recognize the symptoms before they become even worse. Some common symptoms of Pneumococcal Pneumonia include:
Chest pain

Trouble breathing

Fever

Chills

Cold sweats

Exhaustion

Persistent coughing with mucus that worsens over time
The Pneumococcal Pneumonia Vaccine Prevnar 13
If you are wondering what you can do to prevent Pneumococcal Pneumonia virus from affecting your lungs, there is something that you can do! A new preventative measure, the Pneumonia vaccine Prevnar 13, works to prevent the virus from affecting individuals ages 18 and older. The vaccine is injected into the arm to provide years of prevention for over 13 different viruses that can lead to the development of Pneumonia. Talk to your doctor about if the Pneumonia vaccine Prevnar 13 is right for you!
Help Paying for the Pneumococcal Pneumonia Vaccine Prevnar 13
Has your doctor suggested that you utilize the protection of the Pneumonia vaccine Prevnar 13? Are out of pocket vaccine expenses too much for you to handle? The RX Helper can assist you with the cost of your vaccine! We work to provide prescriptions and treatments for individuals that cannot afford the cost of their needed medications due to a lack of or minimal health insurance coverage. Our help is provided through patient assistance programs, which are fundraisers put on by large pharmaceutical companies and nonprofit organizations who would like to see more Americans get the medical help they need. We work to find the patient assistance program that fits each of our patients' needs so that they can get their prescription medications severely discounted or completely covered! Among hundreds of medications that we help patients pay for, the Pneumonia vaccine Prevnar 13 is included! Have other medications that you need to pay for? No worries! If approved, there is no limit to the number of medications that we can help discount. Check out our website to view our entire list of medications that we can assist you with. Have more questions? Call us today to find out if you are eligible for the program at 877-767-3297.