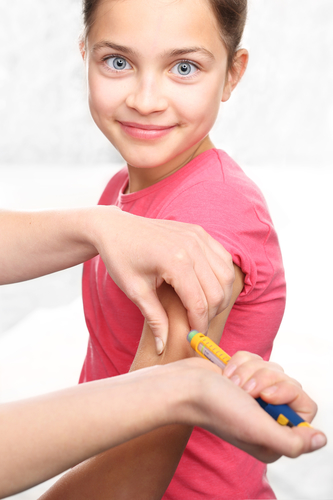 Omnitrope is a prescription growth hormone medication that was developed in a lab to help children and adults with growth issues and development. This is administered to patients who have a growth hormone deficiency and are not growing at a speed that is recommended by a doctor. If you or your child has a prescription for Omnitrope, prescription drug discounts are offered by The RX Helper through our patient assistance programs.
What is a Growth Hormone?

A growth hormone is a naturally produced protein in the master pituitary gland in the body that helps with growth and development. This gland is located in the brain and spreads the hormone to other areas of the body. Growth hormones act to communicate with organs, bones, and tissues of the body about when to grow. Those prescribed with Omnitrope are diagnosed with growth-related disorder, an outcome of lack of growth hormones in the body. Although we still don't know the exact causes of this disorder, Omnitrope works to regain development of the growth hormone in the pituitary gland.  
How is Omnitrope Administered?
Omnitrope is administered through a needle either by syringe and vial or pen injection. Both ways of administering the drug should be taught and practiced before administering. Make sure that your doctor teaches you how to use the medication before trying yourself. Also, read all of the prescription instructions before attempting.
Who is Prescribed with Omnitrope?
Children with a growth hormone deficiency

Children with Prader-Willi Syndrome

Children who are deemed small for their age

Children with Turner syndrome

Children with Idiopathic Short Stature

Adults with onset growth hormone deficiency
Side Effects to be Aware of When Taking Omnitrope
Increased blood sugar

The return of a cancerous tumor

Leg pain or limping

Increased problems from scoliosis in patients diagnosed

Worsening ear infections in children diagnosed with Turner Syndrome

Pancreas inflammation that causes stomach pain

Decrease in breathing
Keep in mind that your doctor prescribed you or your child this medication because he or she believes that it will benefit you or your children. Contact your doctor if you see signs of these uncommon side effects after using Omnitrope.
Patient Assistance Provides Prescription Drug Discounts
If you need prescription drug discounts for your Omnitrope medications, the RX Helper may be able to help you. We provide discounts to all that enroll in our program and fit the requirements. You must have little or no medication health insurance coverage, be a US citizen, and reside in the proper income category to qualify for prescription drug discounts from our assistance programs. If you would like to find out if you quality or enroll, you may do so at any time at no cost on our website. Find out if we can provide you with your Omnitrope prescription today!