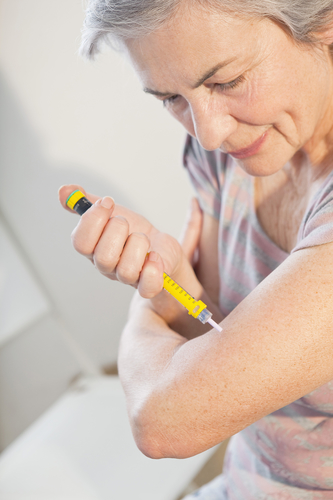 What is Novolog?
Novolog is a prescription insulin injection to help with symptoms of type 2 diabetes. Prescription medication is provided to patients with type 2 diabetes when diet and exercise alone are not enough to keep blood sugar levels down. Novolog patient assistance programs are provided for type 2 diabetes patients to help with medication costs.
What Does Novolog Do?
Insulin is a hormone produced by the body that is used to help process sugars in cells. People with type 2 diabetes cannot process sugars correctly because their insulin is not being used. This is known as insulin resistance. At first, a diabetic's body will start to make more insulin to overcompensate. When this doesn't work, the body slows down the production of insulin. Those that have had type 2 diabetes for years have very low insulin levels. This makes it hard to control blood sugar levels. Novolog works by administering insulin during mealtime to help the body utilize sugars in foods correctly and moderate sugar levels.
Novolog is prescribed to patients with type 2 diabetes that have particular mealtime blood sugar spikes. The Novolog epi-pen is a fast-acting insulin to help decrease blood sugar levels around meal time and works for around 3 hours. This man-made insulin closely resembles natural insulin in the body to promote a healthy lifestyle. Long-acting insulin can be taken with your Novolog prescription to keep insulin levels at a normal level throughout the whole day.
Novolog Usage
The fast-acting insulin is injected 10 minutes before eating a meal.

Do not change type or dose of insulin unless your doctor specifies.

Read and follow directions carefully.

Do not share your Novolog prescription or any other needle.

Tell your doctor if you are pregnant.

Regularly check blood sugar levels.

Do not take Novolog if your blood sugar level is too low.
Side Effects of Novolog:
Rash

Skin irritation

Weight gain

Swelling of extremities

Heart failure
Get emergency help if you experience loss of breath, rapid heart rate, or swelling of the mouth region.
Receiving Novolog Patient Assistance
If you have a prescription for Novolog and you have limited or no medical coverage, there is financial help available to you. At the RX Helper, we provide patient assistance programs to help those that need financial aid for prescriptions be able to afford their medications. All it takes is enrollment on our website to receive your Novolog patient assistance, or you can call us at 877-767-3297.