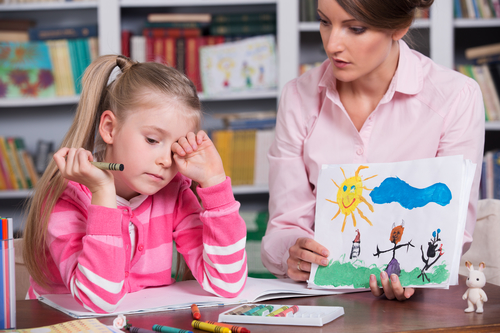 This may come as a surprise to many parents, but nearly 5 million children in the U.S. are diagnosed with one or more mental illness every year— that's 20% of American children. Most people don't realize that mental health issues in children are just as likely to develop as for adults. As a result, many of the children who suffer from some form of mental illness don't get the help or the treatment they need. Recognizing the warning signs of adolescent mental health problems can help parents everywhere better understand how to help their children.
Why Is Mental Illness So Hard to Identify for Children?
Identifying the presence of a mental health issue is easy for adults because they recognize the problem when they feel it. For children, it's almost always the adults' responsibility— parents, guardians, family, and teachers—to determine whether or not they have a mental health issue. Unfortunately, most adults don't know what signs or symptoms to look for. Even for the adults who do, distinguishing some of the red flags from normal childhood behavior is a challenge.
The Most Common Mental Health Conditions in Children
Children are just as susceptible to the following mental health conditions as adults:
Anxiety Disorders
Anxiety disorders like generalized anxiety disorder (GAD), obsessive compulsive disorder, social phobia and even post-traumatic stress disorder (PTSD) can occur in children. If left untreated, conditions like these can interfere with children's daily activities. Exhibiting small amounts of worry is a normal part of anyone's childhood, especially during the transition from one developmental stage to the next. However, when a child's stress gets to be so great that it makes it hard to function, it's possible that an anxiety disorder is the cause.
Attention-Deficit/Hyperactivity Disorder (ADHD)
This condition is especially common among children. The major signs of ADHD include difficulty paying attention, impulsive behavior and general hyperactivity. Some children with ADHD may exhibit only one of these symptoms, though, which sometimes makes the condition hard to detect.
Learning and Communication Disorders
Children with learning and communication disorders have trouble storing and processing new information. Additionally, they might have trouble sharing their thoughts and ideas in a way others can understand.
Mood Disorders
Mood disorders affect more children than most people realize. These disorders cause children to feel extreme feelings of sadness or exhibit jarring mood swings that are often much more severe than in adults with mood disorders. Serious conditions like depression and bipolar disorder can develop as early as puberty.
The Warning Signs of  Mental Health Issues in Children
If you suspect that your child may be suffering from one or more mental health issues, be sure to stay alert and look for these red flags.
Preschool and early elementary school years (children 6 years old and younger):
Behavioral problems in school or at home
Extreme cases of hyperactivity as compared to other children
Extreme disobedience or aggression toward adults or other children
Relentless temper tantrums
Refusal to separate from a parent
Feelings of fear or worry
Excessive crying
Problems falling asleep or staying asleep
Frequent nightmares
Late elementary and grade school years (children 7-13 years old):
A sudden and unexpected decrease in school performance
Loss of interest in or decreased contact with close friends
Loss of interest in or sudden lack of engaging in favorite activities
Extreme changes in weight
Extreme changes in appetite
A general sense of fear or worry
High school years (children 14-17 years old):
Threats to run away
A desire for self-harm or to harm others
Social withdrawal from both family and friends
Extreme forms of destructive behavior, such as damaging property
What Parents Can Do
If after reviewing the warning signs you're concerned about your child's mental health, be sure to keep your child's doctor informed. Describe your child's behavior and what your concerns are. Also consider talking to your child's teacher, friends, family and your fellow caregivers. If they have also noticed unusual changes, be sure to include the information they give you when you talk to your child's doctor.
How to Handle Mental Health Issues in Children Through Rx Helper
Thankfully, most mental health issues in children— like the ones described here— can be treated with medication. If your child or a child you know is suffering from one or more mental health conditions and needs medication for it, Rx Helper is here to make sure that the conditions are not only medicated but manageable, too. For more information about our prescription assistance program, the medications we cover or the enrollment process, please call us at 877-767-3297.