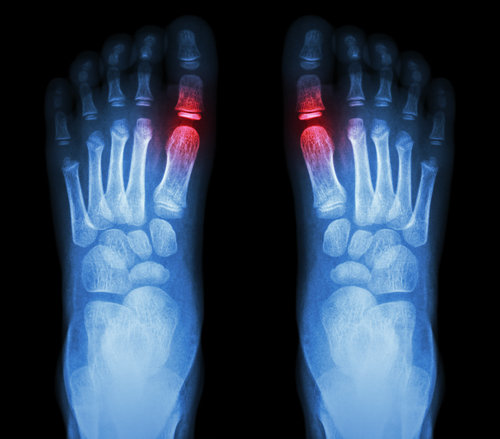 Gout is an aggravating and painful type of arthritis. Thankfully, the irritating symptoms of gout can be reduced and prevented with a prescription. But, paying for gout prescription medication can leave your pockets hurting. Prices of prescription medications have been on the rise in recent years, making it hard for many Americans, especially for those with little or no medical insurance coverage. For this reason, The RX Helper has come up with patient assistance programs to help these Americans pay for their gout prescription medication.
What is Gout?
Gout is pain caused by inflammation of the joints, known as arthritis. This type of arthritis is different than others because it is caused by a buildup of uric acid. This acid is found in the bloodstream and is developed by the body. Everyone's body produces uric acid, but in most people, the majority of it is exited out of the body through urination. For those with gout, uric acid tends to build up in certain areas. The buildup of uric acid can cause the formation of acidic crystals, which are the cause of the irritation and inflammation of the joints. The higher the amount of uric acid in an individual, the higher the risk of developing gout.
What Rises Uric Acid Amounts?
There are a few reasons why a person may have a higher amount of uric acid accumulating around joints than others. Typically, a person should excrete as much uric acid as they have in their body, always keeping levels in balance. For those with gout, the kidneys do not work to clean the bloodstream of uric acid as well. In individuals with kidneys that clean the blood of uric acid, they could have gout flare ups for other reasons including:
     

Consuming too much alcohol

     

Lack of vitamin C

     

Consuming drinks high in fructose

     

Eating an unbalanced diet

     

Taking certain medications

     

Having certain blood disorders

     

Obesity

     

Kidney damage

     

High blood pressure

     

Diabetes

     

Having bone marrow disorders

     

Having lipid disorders

     

Having enzyme deficiencies
What are the Symptoms of Gout?
Gout will cause extreme pain in one joint. This joint can be located anywhere in the body, but the most common site for a gout flare up is located in the big toe. This makes it incredibly difficult to walk for those affected, and even placing sheets over the feet can cause pain. The skin surrounding the affected joint are likely to be red in color and swollen. A gout flare up usually comes on fast and can last for days if left untreated. Sometimes more than one joint can have a gout flare-up at the same time. Also, gout flare-ups can occur only once every few years and sometimes only once in a lifetime in certain patients.
Treatment with Uloric Gout Prescription
Home remedies for symptoms of gout can be helpful for immediate pain. Raise the area in pain and apply cold to reduce symptoms. Of course, this won't take away the pain completely. You could take an anti-inflammatory for your gout flare-ups, but frequently taking these medications puts your stomach at risk for bleeding. Besides home remedies and over the counter drugs, there is another solution.
Uloric is a gout prescription medication that works to lower uric acid levels in patients diagnosed with gout. This tablet is taken once a day to prevent the risk of gout flare-ups. This medication has been proven to help patients get their uric acid levels to below 6 mg, which is the goal for the long-term treatment of gout patients.
Help Paying for Uloric Gout Prescription
If you are considering asking your doctor for a prescription for Uloric gout prescription medication or you already have a prescription, The RX Helper may be able to help you with your prescription costs. We have come up with patient assistance programs for people that cannot afford the cost of their gout prescription and other medications, listed on our website. These programs are intended for people with little to no prescription coverage by health insurance. Other regulations apply and are listed on our website for your convenience. We have helped thousands be able to cover the cost of their medications, and in some cases, we even cover the entire cost of medications! With only a small monthly fee, you won't have to skip your gout prescription doses ever again!