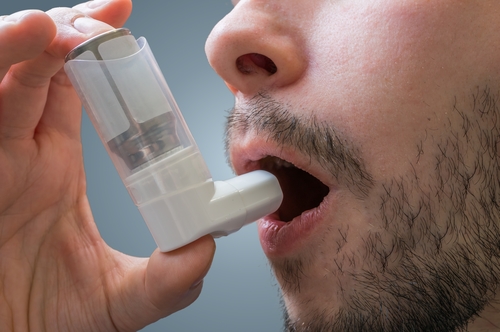 Dulera is an asthma medication used to help treat symptoms of the disease in patients that have had to use their emergency inhaler more than twice a week. This medicine is provided to patients with asthma who are 12 years of age and older. Many Dulera users are underinsured or cannot afford their medication due to rising prescription costs. The RX Helper provides a Dulera patient assistance program to those that cannot afford their prescription asthma medication.
What is Asthma?
Asthma is an incurable disease that affects the respiratory system of the body. Although people of any age can develop asthma, it is most common for asthma patients to develop the disease during childhood. Airways are the tubes that transport oxygen to the lungs. In asthma patients, airways are swollen. The swelling, along with mucous buildup, can cause the inability to breathe at all. Symptoms of asthma include:
Trouble breathing

Wheezing

Coughing

Tightening of chest muscles
Do I Need a Durela Prescription?
Asthma lasts a lifetime, but that doesn't mean that your asthma has to control your life. If you find that your asthma is not as controlled as you wish it to be, Dulera may help. A sign that your asthma may be getting out of hand is increased usage of your emergency inhaler. Dulera has been proven to increase lung function and decrease the frequency of emergency inhaler use in patients with asthma. Ask your doctor if a daily asthma control inhaler like Dulera could be beneficial to your asthma symptoms.
Side Effects of Dulera
Dulera may cause side effects in some patients. If you are prescribed with Dulera and any of the following side effects ensue, alert your attending physician immediately or go to the emergency room. Tell your doctor if you have any allergies or are pregnant before taking Dulera. Severe side effects include:
Swelling of the mouth and face caused by allergic reaction

Yeast infection of the mouth and throat

Extreme fatigue

Decreased bone density leading to Osteoporosis

Stunted growth in adolescents

Increased blood sugar levels

Glaucoma and cataracts
Dulera Patient Assistance Program for Medication Discount
If you already have a prescription, Dulera patient assistance provided by the RX Helper can help with medication costs. The RX Helper was created to offer financial pharmaceutical support for those with little or no health insurance. We understand that the rising costs of medicines only makes it harder for patients to live their daily lives. Find out if you are eligible to enroll in the Dulera patient assistance program on our website or over the phone at 877-767-3297.