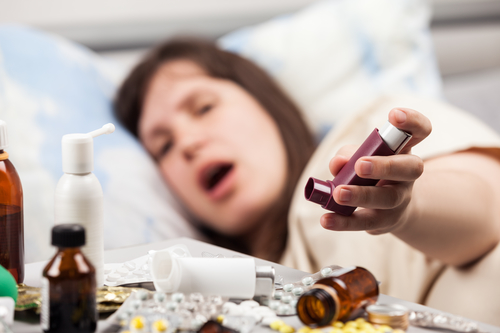 Do you suffer from severe asthma attacks? Severe asthma only accounts for a fraction of patients diagnosed with asthma but can be more challenging to manage. Patients diagnosed with the condition are usually prescribed with a number of medications before it is determined that the asthma is considered severe. Once it is diagnosed a severe form of asthma, severe asthma treatment is ordered by prescription from a doctor. Patients diagnosed with severe asthma may not be able to afford their prescriptions due to a lack of health insurance, and that is where The RX Helper comes in to provide discounts or coverage.
Do I have Severe Asthma?
People diagnosed with severe asthma typically have experience with severe asthma attacks throughout their history. Additionally, they may have attempted a number of treatments including emergency inhalers, daily pill regimens, and daily inhalers. In fact, experiencing asthma attacks throughout life without proper treatment to control inflammation can increase an individual's chances of developing severe asthma. Those with severe asthma experience asthma attacks that cannot be managed with their prescribed medications and usually require an eventual trip to the hospital emergency room.
Inflammation and Severe Asthma
Scientists have determined that a specific type of white blood cell called eosinophils may be the cause of severe inflammation caused by repeated asthma attacks. Severe inflammation is what can lead to severe asthma attacks, so it is important that eosinophils are managed for these patients with severe asthma treatment. Doctors can measure a number of eosinophils within a patient's blood just by simply taking a sample. If levels of eosinophils are high and you are currently unsuccessful managing your asthma attacks, your doctor may determine that you are suffering from severe asthma and may determine that you could benefit from a prescription to a severe asthma treatment prescription like Nucala.
The Severe Asthma Treatment, Nucala
Instead of the common steroid or inhaler that may not be working for you, Nucala is a severe asthma treatment that is injected once a month by your doctor. It works to reduce the amount of the white blood cell, eosinophils, in the blood. This reduces the risk for severe asthma attacks led on by severe inflammation. This medication is taken along with your daily asthma medications in attempt to both reduce the severity of attacks and prevent severe attacks.
Benefits of Nucala, the Severe Asthma Treatment
A reduced number of severe asthma attacks

Increased number of prevented severe asthma attacks

Reduce the amount of oral steroid asthma treatments needed

Reduce the severity of symptoms asthma brings

Improves overall quality of life for those with severe asthma
Help Paying for your Severe Asthma Treatment
If you are thinking of asking your doctor for a prescription for Nucala, or you already have a prescription for this severe asthma treatment, The RX Helper may be able to help you with the costs. We help individuals pay for over a hundred different generic and name brand prescriptions prescribed by their doctors through patient assistance programs. These programs are developed by large pharmaceutical manufacturers and nonprofit organizations to help individuals living in the United States be able to afford the cost of their needed medical treatments. Far too many individuals are suffering from not being able to afford their prescriptions because of rising drug prices and also a lack of health insurance. To find out if you are qualified to enroll in the program, check out the eligibility requirements listed on our website. If you think you may be qualified, simply fill out the enrollment form on our site as well, and we will help you get your medications discounted! Additionally, once approved for the program, there is no limit to the number of medications that we can provide help with; as long as they are listed on our list of covered medications, also listed on our website.